---

---
Forest Frontiers Walk-through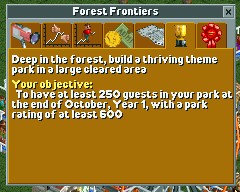 Forest Frontiers is the first Scenario in Roller Coaster Tycoon. You are introduced with a completely flat grid. You can bump your loan all the way up to $30,000. The requirement for this scenario is to have 250 guest in your park by the end of October, Year 1, with a Park rating of at least 600. In this Scenario I just start building right away.

Click to enlarge
As you can see before 2 months I have 5 flat rides built and a large coaster in the middle of construction. I eventually run out of money so, I raise my loan until I get to $30,000. Don't worry about losing the scenario because you have a loan to pay back. In this Scenario it doesn't matter.
Click to enlarge
You can tell that by the end of May Year 1 I have finished the coaster and named it Forest Frontiers Cyclone. You can download it here.

Click to enlarge
By June of Year 1 I have removed the car ride because it simply wasn't making any money. I replaced it with a Long Flume and then I added a Ferris Wheel near the front of the Park.

Click to enlarge
All I added in July was a small boat ride.

Click to enlarge
In August to make up for the sad peeps that loved the car ride I removed in June, I built a new car ride.

Click to enlarge
All I did for the final two months is I built a huge monorail that did nothing but tour the perimeter of the park, buy some land for the monorail, and start construction on a steel coaster that I never finished.

Click to enlarge
As you can see the above picture I beat the Scenario with a Company Value of -$15,566. Who cares if your in negative money? As long as you beat the Scenario. If you have any more questions or comments , need any help, or have something else that you think should be stated here please email me at inversiongforce@yahoo.com